11/16/2010 Case 1: Acute hemorrhagic leukoencephalopathy of Weston-Hurst
Presented by: Dr. Wrzolek - Staten Island University Hospital


Clinical History:


The patient was a 52-year-old male with a history of cluster headaches, hyperlipidemia, COPD, a lung nodule, and depression. He presented to the Emergency Room complaining of shortness of breath for four days, associated with headache which did not improve with his usual treatment. He also had decreased oral intake, myalgias, chills, low-grade fever, sore throat, wheezing, dry cough, and confusion. In the ER, the patient was hypoxic, febrile to 101.5°F and very somnolent. Chest x-ray revealed bilateral infiltrates. He was admitted to the ICU with a diagnosis of exacerbation of COPD because of pneumonia. He was intubated and started on an aggressive regimen of corticosteroids, nebulizer treatments, and antibacterial and antiviral medications (including oseltamivir [Tamiflu®]). Four days into the admission he had a generalized tonic-clonic seizure in the setting of hypoxia secondary to tension pneumothorax. Neuroimaging studies and lumbar puncture were not performed. The ICU course was further complicated by septic shock, acute respiratory distress syndrome, gangrene of a lower extremity, and renal failure. The patient expired 10 days after admission.
General autopsy revealed diffuse alveolar damage, attributed to viral infection. There was bronchiectasis, emphysema, cardiomegaly and acute tubular necrosis.  The fixed brain weight was 1,200 gm. External examination showed scattered small foci of subarachnoid hemorrhage.  On sectioning, the cerebral hemispheres and cerebellum showed numerous foci of fresh hemorrhage, almost exclusively in the white matter, ranging from punctuate ones, up to 4 cm in maximum dimension.  Submitted: One H&E-stained slide and one unstained slide.

The gross appearance of the brain appears below: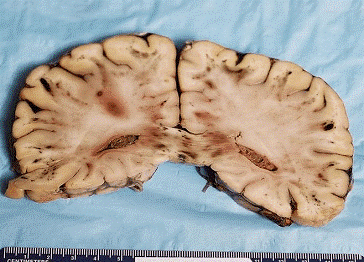 Large and small hemorrhages were present in the white matter and at the grey-white junction, and in the corpus callosum.  One hemorrhage was seen in the basal ganglia, the only one in the grey matter.  The cerebellum, brainstem and spinal cord also showed small hemorrhages.
Sections showed perivascular hemorrhages, some with an associated acute or chronic inflammatory cell infiltrate.  There was vascular necrosis.


Diagnostic Notes:


The diagnosis was acute hemorrhagic leukoencephalopathy of Weston-Hurst.  This entity is considered a hyperacute form of acute demyelinating encephalomyelitis.  The pathology differs from that of ADEM by the presence of vascular necrosis.  There is no vascular necrosis in ADEM.  Leukoencephalopathy of Weston-Hurst may be a complication of infection or vaccination.  Infections include but are not limited to measles, influenza, mumps, EBV, Mycoplasma and tuberculosis.  Vaccinations include rabies, influenza and smallpox.  This entity may complicate organ transplants.  The pathology can be reproduced by inoculation of CNS myelin and pertussis vaccine.  The particular patient had H1N1 influenza confirmed by RT-PCR.  The H1N1 epitopes were not found in brain or lung, but the virus may have been cleared in this patient who was treated.

References:
Neurologic complications of 2009 influenza A (H1N1): Heightened attention on an ongoing question. Sejvar, JJ et al, Neurology 74(13), 30 March 2010, pp 1020-1021  (e-Pub ahead of print).
2009 Pandemic Influenza A (H1N1). Pathology and Pathogenesis of 100 Fatal Cases in the United States. Shieh WJ et al, Am J Pathol 2010; 177 (1), 166-175.
Postmortem findings in eight cases of influenza A/H1N1. Rosen DG et al, Modern Pathology 2010; 23, 1449-1457.
Severe Encephalopathy with Swine Origin Influenza A H1N1 Infection in Childhood: Case Reports. Webster, RI et al, Neurology 74, (e–Pub ahead of print).
Acute Hemorrhagic Leukoencephalitis and Hypoxic Brain Injury Associated with H1N1 Influenza. Fugate JE et al, Arch Neurol 2010; 67 (6): 756-758.
Neurologic Complications Associated with Novel Influenza A (H1N1) Virus Infection in Children – Dallas, Texas, May2009. Evans AS et al, M&MWR 2009;58(28):773-778.
Two Case Reports of Encephalopathy Associated with H1N1. Talan J, Neurology Today 2010; 10 (7): 6-7.